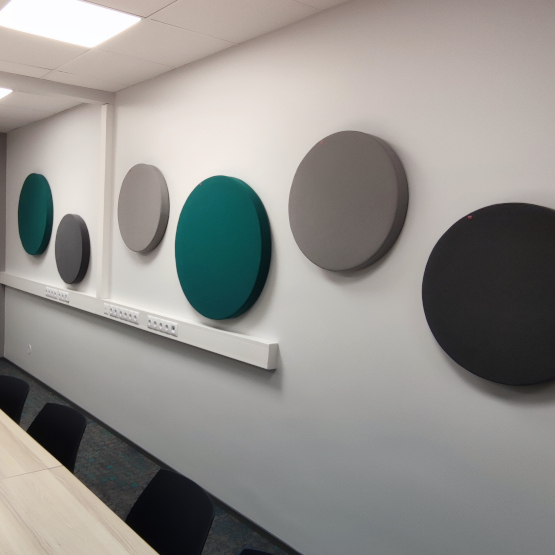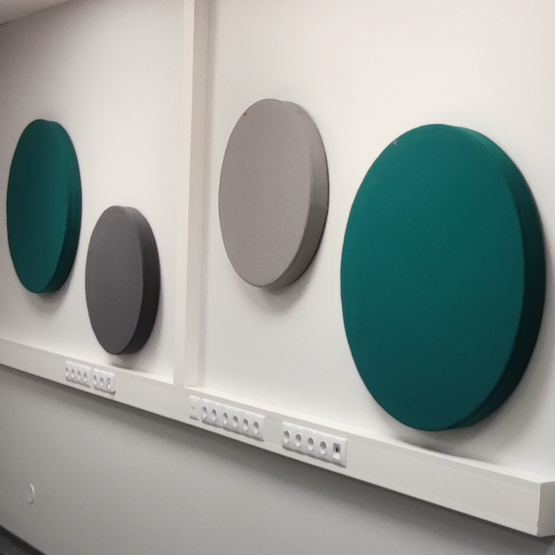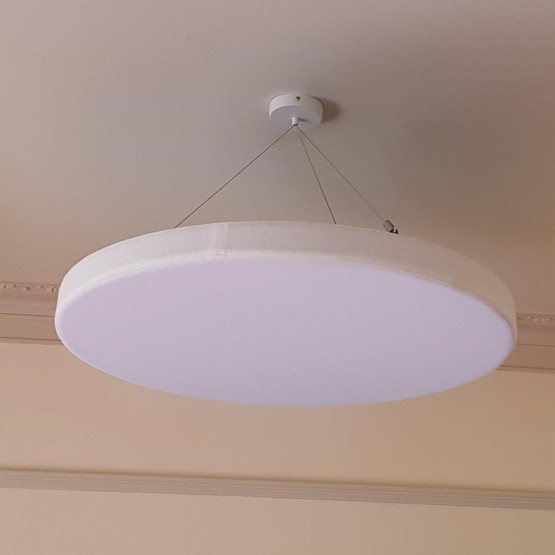 Hush Light Round Acoustic Panel
Light as a feather acoustic panel

The Hush Light Round Acoustic Panel is sound-absorbing panel that can also be used as notice board. The panel can be mounted on the wall or on the ceiling.

The panel is made of 55 mm Basotect® melamine resin foam which is used in the aerospace and automotive industries for its lightweight, fire safety and class A sound insulation properties. Basotect® is certified to the OEKO-TEX® Standard 100.

The panel is fixed to the wall or ceiling with concealed brackets. Hush Light Round Acoustic panel is upholstered with Camira Cara fabric with different color options. Camira Cara fabric is ideal for sound absorbing boards. The panel's appearance is finished with machine sewn edges. Other fabrics are also available at the customer's choice. The Hush Light Round Acoustic Panel is also available with Photo Print fabric.
The substraight is 6 mm MDF board.

The Hush Light Round Acoustic Panel is available in standard and custom sizes.
New fabrics! Hush and Soul by Gabriel are also available.
Color options

Lomond EJ192
Beltane EJ193

Austen EJ173
Lerwick EJ194

Shetland EJ191
Spray EJ033

Portland EJ016

Merrick EJ048
Lead EJ104
Hillswick EJ190
Chaucer EJ172

Glass EJ004

Vit EJ184

Clan EJ169

Denny EJ196
Easdale EJ188
Adriatic EJ154

Walten EJ011
Cluanie EJ180
Galilee EJ125

Inverness EJ175

Dolphin EJ105
Ronay EJ189

Lora EJ187

Carron EJ015

Staffa EJ185

Fair Isle EJ186

Maree EJ195
Lossie EJ197
Tummel EJ038
Pitlochry EJ076

Black EJ138